The book is in French but you can see a lot of pictures and it's pleasant to see , if some body can translate it, he is welcome , so I could give the translation beside , We cannot envisage to print a new edition in English because we have no editor and the cost is very expensive for few copy with so much color pages .
Michel Guerin wrote a beautiful book on Irish terrier breed with many color pictures.
To know this race in depth: the arrival of the pup, food, health, uses, grooming, breeding, last years, …
a young professional photographer Nathalie HOUDIN spent 2 days with the dogs to track them in their sometimes acrobatics positions.
Many owners of irish took part by sending their photographs, they are highly thanked for it!
it has been a book made by an exclusive irish terrier breeder since 10 years!
Order it by sending payment to:
Michel GUERIN
3 rue de la forge- LE MOULIN
F-21290 GURGY LA VILLE
NEW PRICES IN SEPTEMBER 2017
NEW IMPRESSION
by postal transfer 50€ including all taxes + postal fees POSTAL FEES ( CARDBOARD OR BLISTER PACK with follow-up) :
*FRANCE 25€ for France total for France 75€( follow-up)
*EUROPE 50€ for EUROPE Total for Europe 100€ ( chronopost follow up)
*WORLD AND OVERSEAS for world and overseas 60€ Total world and overseas 110€( chronopost follow-up)
for the international postal transfers , contact the author by email or phone +33 380 810 016 or +33615677100
specify your address of sending well.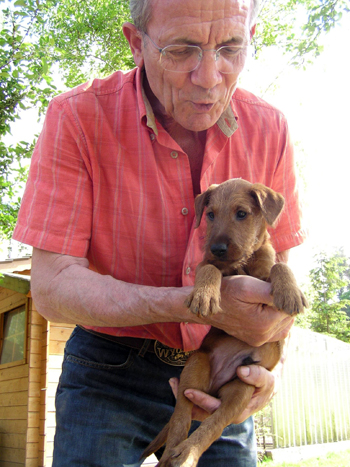 The author: Michel GUERIN
This work is intended for all those which are interested by Terriers and in particular in Irish terrier.
There does not exist any more, at the present time of French version relating to the Irish terrier.
The editions DE VECCHI with which we kindly requested to republish it excel book of LIMOUZY
having refused, the author decided to carry out this essay following the request of many owners of Irish terriers.
Engineer of the National Academy of Arts and Trades of Paris, he found a hobby per hour of the retirement
(grace or because of his wife) in the breeding of Irish Terrier. In addition to his wife and of his son,
he increases his family with his Irish which he adores, in a small village of North Burgundy, Gurgy la ville (40 inhabitants).
The Photographer: Nathalie HOUDIN
Nathalie Houdin Photographer for animals born in Lyon in 1977.
Impassioned and touched by nature and his inhabitants, I like through photography to make share,
discover and look of a different eye this beauty which surrounds us, that it is animal, vegetable, domestic or wild.
An irish terrier and airedale owner
Enfin une présentation qui nous change des ouvrages habituels de ce genre de lecture.
Voici mes premières impressions.
La splendide photo de la jaquette, très attrayante Est-ce Tickety-boo ?
- les remerciements qui sont le fruit de personnes ayant un grand cœur!
-La préface et la naissance de ce chien assez extraordinaire au caractère bien trempé viennent compléter ma culture "Irish" bien modeste. Je manque aussi d'expérience en ce domaine.
-le format sympa qui prédispose à la lecture , le choix du papier qui ne fatigue pas les yeux un peu fatigués
- la présentation, la mise en page et les nombreuses photos qui en font un ouvrage très agréable, qui devrait plaire non seulement aux amoureux de l"irish" mais aussi aux futurs acquéreurs
- . Sincèrement BRAVO.
Maintenant les choses sérieuses vont commencer la lecture et compléter toutes mes lacunes en la matière. Encore merci pour cet ouvrage et je lui souhaite un succès mérité.
Très affectueusement et à bientôt G.